Invisalign
®

– transparent braces

Invisalign® transparent aligners represent a revolution in modern orthodontics

Want to straighten your teeth as quickly as possible while looking good?
Invisalign® transparent aligners represent a revolution in modern orthodontics. They are the answer to all the flaws we encounter with classic braces. The hectic lifestyle and increasing pressure for a better appearance imposed the standards that the American corporation implemented in this innovative system in which all the shortcomings of classic braces were improved and thus enabled patients around the world easier carrying, better aesthetics and guaranteed treatment outcome.
Invisalign® braces are custom made and differ from classic braces in the length of therapy which is significantly shorter. Depending on the complexity of the case, patients wear a specific number of transparent aligners per week that are almost invisible. They are made of a unique multi-layer SmartTrack® material and achieve excellent results with SmartForce® technology. Each of these transparent aligners is worn up to 20 or 22 hours a day and it move the teeth horizontally and vertically, or even rotate the tooth if this is forseen in the treatment plan. When you switch to a new set of aligners, your teeth change positions as determined by the treatment plan prescribed by your doctor.
With each passing week patients can notice the improvement and have an even greater desire and strength to continue with the agreed plan.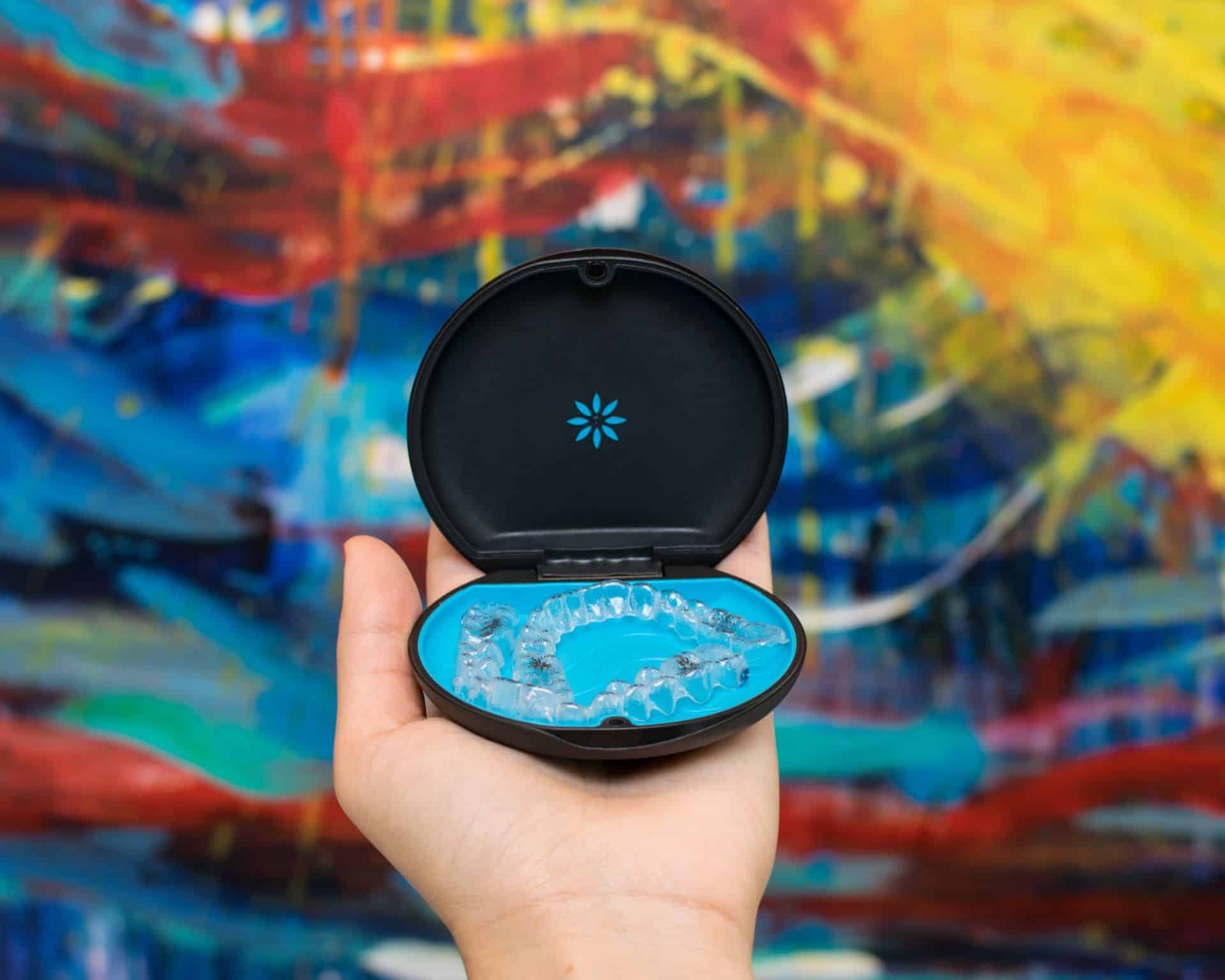 Advantages of Invisalign braces
More comfortable to wear (adheres perfectly to your teeth)

Aesthetically more beautiful (translucent, almost transparent)

No possible injuries during wear (such as locks; if the metal lock snaps and the wire cuts the soft lining)

Fewer visits to the dentist (7-8 different aligners are obtained in advance, if the patient has some questions he/ she can solve the problem by phone or via mail)

The Invisalign® system is a clinically and statistically proven system of orthodontic therapy

It has a patented compliance indicator that serves the orthodontist as indicators of how much the patient conscientiously and continuously wears the aligners and thus how much the patient helps or deprives the therapy

Higher self-confidence of patients due to its invisibility and easier carrying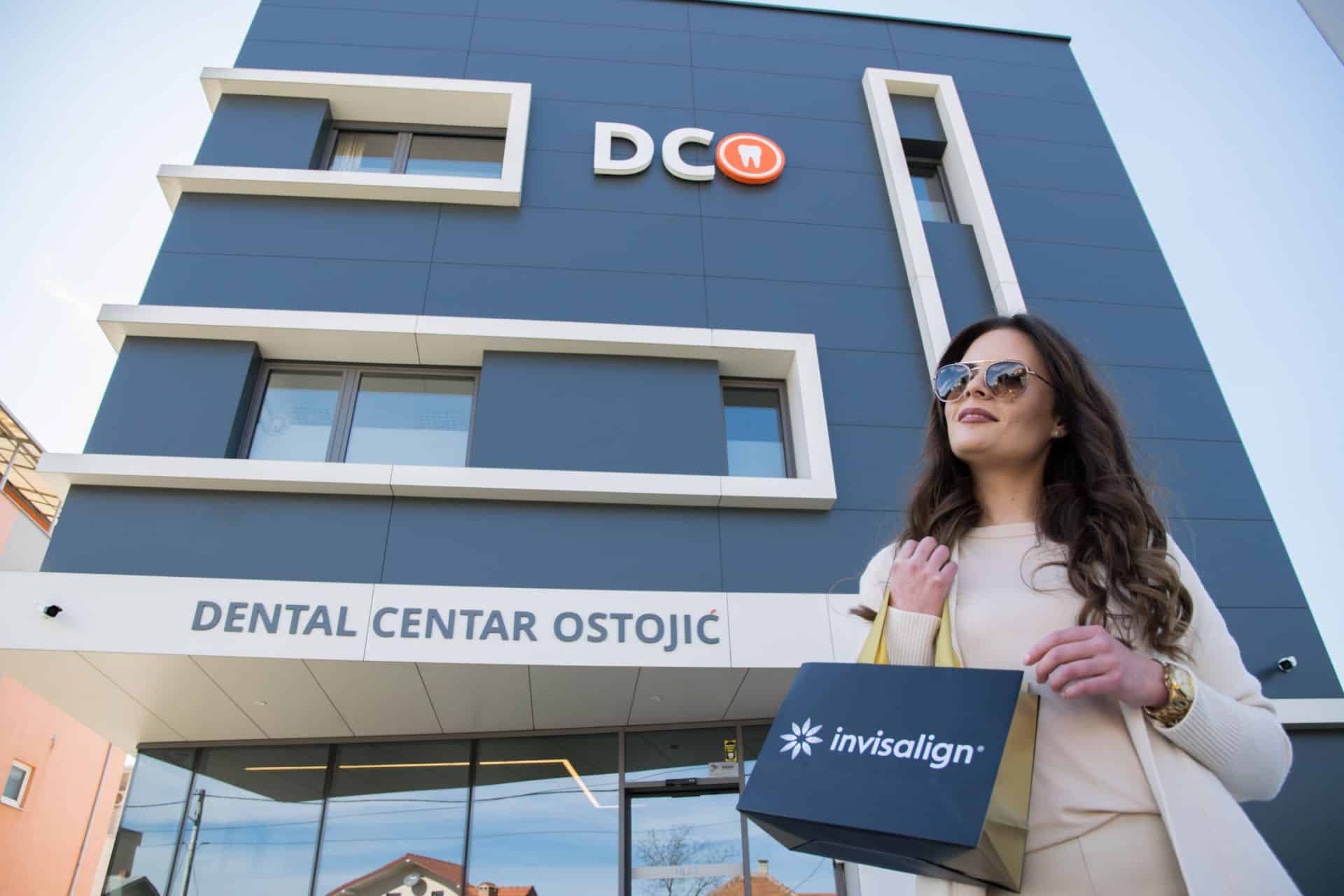 Who is a candidate for Invisalign®?
Patients who have a gap between the teeth
Malocclusion
 Crossbite
 Compacted teeth (compression)
Rotated tooth
Deciding to use the Invisalign® system is a big step, both in terms of time and money. The most important thing is to get informed and get an adequate treatment plan.
The first step is to choose a clinic that has the entire Invisalign® + iTero® system. Arrange an examination where doctors introduce you to the Invisalign® system of work, which shows you an example of what aligners look like, how they are placed and how to maintain their hygiene. Before the digital scan of the oral cavity, it is necessary to make an X-ray and 3D CT diagnostics both of which you can do in our facility. After the scans a clinical examination is in order and the doctor will determine if there are some other treatments that are necessary before the placement of braces, such as root canal treatments or tooth extractions. All the necessary conservation needs to be done before starting the orthodontic therapy and you can do all these necessary preparations at our clinic.
After all these preparations, we still have to take photos using SmileLine and send all the documentation for precise examination, based on which the final therapy plan is made, ie which category your case belongs to; Comprehensive, Light or Express, and what is the number of required aligners and how long is the therapy going to last. The patient can be shown a simulation of the therapy and prediction of the outcome of the therapy using an iTero scanner.
The role of the iTero Element 2 scanner is polyvalent. We primarily use the iTero scanner to take situational impressions for the production of invisible Invisalign braces, but also for intraoral scanning of topographic images of teeth and oral tissue which are the sent the laboratory for precise impressions required for the production of prosthetic components such as veneers, crowns, bridges…
We use the iTero Element 2 scanner with its appropriate software package to create 3D digital images of the relationship between tooth impressions, soft tooth tissue and structures, and bites. The software controls data processing, stores data, offers the ability to compare data on a daily, weekly, monthly and / or annual basis and thus allows strict control of progress or stagnation of therapy (e.g. tooth displacement in orthodontic therapy, expansion of carious formations on the tooth surface, degree of gingivitis ecc.) and thus gives the doctor guidance in the further course of therapy. The system offers amazing data integration, and exports data for CAD / CAM fabrication of dental crowns, veneers, bridges. We also use it to create simulations in which we can visually show each client in which direction we want the therapy to go, and thus enable him to contribute some of his wishes and ideas to its final outcome.
The iTero Element 2 system offers important advantages over existing analogue crown-making methods including powder-free scanning used for outdated scanner versions, greater accuracy in prosthetic fabrication, and immediate feedback during the scanning process.
Advantages of the iTero Element 2 scanner
– its extended touch screen monitor that allows a wider field of view and thus better visibility;
– faster software;
– scan one jaw within 1 minute! (in ideal conditions with a lower concentration of saliva, blood and other conditions that contribute to difficult maneuvering of scanning rods)
It should be noted once again that conscientious and constant wearing of aligners is a key factor in the success of the outcome of therapy. It is necessary to wear an aligner for 20-22 hours a day, take it off only while eating or brushing your teeth. The aligners are changed on a weekly basis, ie you open a new set of splints that represent the next phase of therapy. The number of aligners depends on the type of anomaly that needs to be corrected.
Is the therapy painful?
Invisalign® splints are soft and light, so wearing is extremely comfortable. In addition to the aforementioned properties, it should be noted once again that the aligners are transparent and almost invisible, so sometimes other people with whom you come into contact don't even notice your braces. Moving teeth can sometimes be a painful process, but it is not as unbearable as a toothache, for example. What is most painful with classic orthodontic appliances are the tightening of wires and braces, which does not exist in the case of Invisalign®. There is no damage to the gums and mucous membranes, and maintaining oral hygiene is uninterrupted precisely because you simply remove it when brushing your teeth.
Looking for more information?
Come directly to our clinic or contact by email or phone